CLICK THE PLAYER ABOVE TO LISTEN TO THE SHOW OR…
Plus All Podcast Apps and Platforms including:
And many more…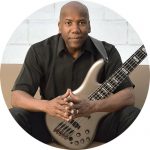 In our 28th episode, we are joined by the great bass player, Nathan East, who has recorded and toured with some of best known artists in the business like Eric Clapton, Phil Collins, Kenny Loggins and so many more. He's a founding member of the jazz group, Fourplay and his record and performance appearances number in the thousands. At the Back of the Show, you'll get our Interview Wrap-Up.
Highlights of the podcast include:
00:40 Setting the Stage
03:40 Nathan East Interview
50:50 Back of the Show / Interview Wrap-Up
Thanks for listening and we look forward to hearing from you!
Leave your comments below: