CLICK THE PLAYER ABOVE TO LISTEN TO THE SHOW OR…
Plus All Podcast Apps and Platforms including:
And many more…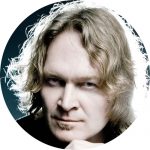 In our 30th episode, we have an extended interview with the well-known bass builder, Sheldon Dingwall. He shares with us an inspiring story of passion and perseverance that propelled him from the pit of catastrophe to running an innovative and successful business since the mid-nineties. At the Back of the Show, you'll get our Interview Wrap-Up.
Highlights of the podcast include:
00:40 Setting the Stage
04:30 Sheldon Dingwall Interview
1:07:15 Back of the Show / Interview Wrap-Up
Thanks for listening and we look forward to hearing from you!
Leave your comments below: