CLICK THE PLAYER ABOVE TO LISTEN TO THE SHOW OR…
Plus All Podcast Apps and Platforms including:
And many more…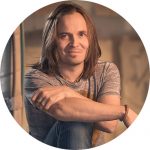 In our 34th episode, we traveled all the way to Finland (virtually of course) to speak at length with Juha Ruokangas of Ruokangas Guitars. For over 20 years, he's been a highly respected guitar maker and a very involved industry leader. He's one of the founders of the European Guitar Builders organization as well as the Holy Grail Guitar Show. At the Back of the Show, you'll get our Interview Wrap-Up and commentary.
Highlights of the podcast include:
00:40 Setting the Stage
03:00 Juha Ruokangas Interview
1:18:45 Back of the Show / Interview Wrap-Up
Thanks for listening and we look forward to hearing from you!
Leave your comments below: