CLICK THE PLAYER ABOVE TO LISTEN TO THE SHOW OR…
Plus All Podcast Apps and Platforms including:
And many more…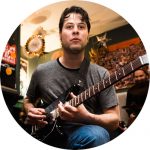 In our 39th episode, our special guest is the president of Supro and Pigtronix, David Koltai with an in-depth back story on how Pigtronix was developed and what led up to the acquisition and successful relaunch of the Supro brand and much more. At the Back of the Show, you'll get our usual Interview Wrap-Up and commentary.
Watch David's live music video for "My Soul" live at Telefunken
Highlights of the podcast include:
00:40 Setting the Stage
02:40 David Koltai Interview
1:03:00 Back of the Show / Interview Wrap-Up
Thanks for listening and we look forward to hearing from you!
Leave your comments below: