CLICK THE PLAYER ABOVE TO LISTEN TO THE SHOW OR…
Plus All Podcast Apps and Platforms including:
And many more…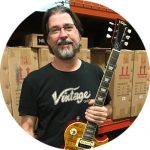 In our 42nd episode, we talk with Rick Taylor, Product Manager for the Fret-King and Vintage guitar lines at their USA distributor, RBI Music. At the Back of the Show, you'll get our usual Interview Wrap-Up and commentary.
Highlights of the podcast include:
00:40 Setting the Stage
02:55 Rick Taylor Interview
52:30 Back of the Show / Interview Wrap-Up
Thanks for listening and we look forward to hearing from you!
Think differently with…

Leave your comments below: