CLICK THE PLAYER ABOVE TO LISTEN TO THE SHOW OR…
Plus All Podcast Apps and Platforms including:
And many more…
Show Notes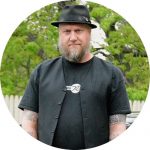 In our 66th Episode, we are happy to be joined by Reverend Guitars CEO, Ken Haas. We get a very personal look back at what drove him to Reverend and where that road has taken him. At the Back of the Show, you'll get our regular Wrap-Up and useful commentary.
Highlights of the podcast include:
00:40 Setting the Stage
02:30 Ken Haas Interview
1:25:35 Back of the Show / Wrap-Up and Useful Commentary
Thanks for listening and we look forward to hearing from you!